A few days ago, with Short-eared Owls showing well at mearby Burwell Fen, part of the National Trust's Wicken Fen, I went and drew a complete blank. Any Owls were much too distant and the light made a premature exit.
Yesterday, I paid a repeat visit with a sunny afternoon forecast. This place is very populat - there must have been 10/12 photographers there all patiently waiting. A couple of Short-eared Owls had made an appearance before I arrived at around 1.30pm but must have caught their lunch and settled down for a rest.
Finally, a couple made a distant show, one being mobbed by the usual Crow
but none came close enough for better images. Burwell Fen is large and where to stand for the best shots is pot luck. I took the rough road to the middle of the fen but hesitate to recommend anyone taking that route without a 4x4 ground clearance.
Then behind where I was standing, a ringtail Hen Harrier started to quarter the field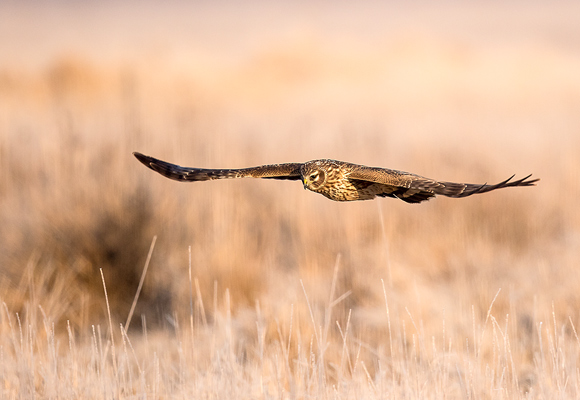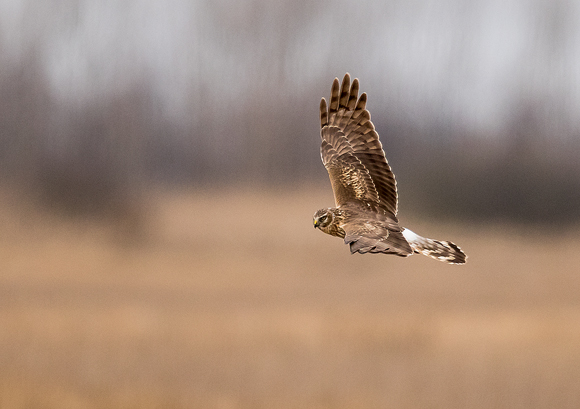 Still more distant than I would have liked but the 7D MK2 easily held focus on the flying bird.
Later on, after an hour or so of nothing, the same (or possibly another) made an appearance in the field in front of me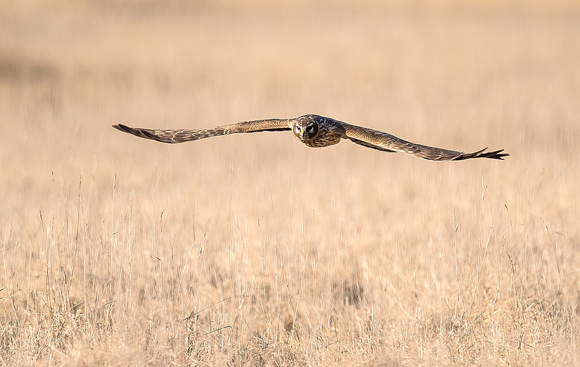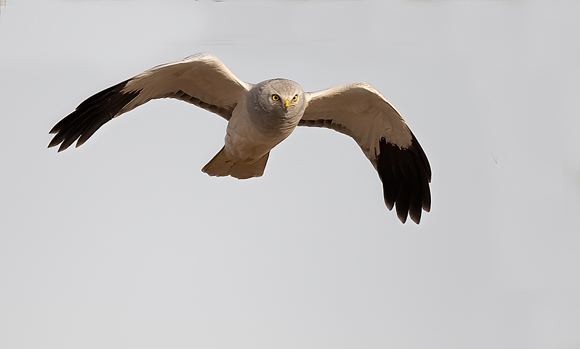 Once again, the 7D MK2 held focus brilliantly and out of a total of 98 flight shots taken, 92 were in focus and 88 were sharp - an excellent result for my level of flight shot expertise!!
Finally a shot I could not resist. In an adjacent field was a herd of Konic ponies and a flock oF Starlings decended to feed, just as the sun was setting, some using the ponies as look-out posts. The Konics totally ignored them.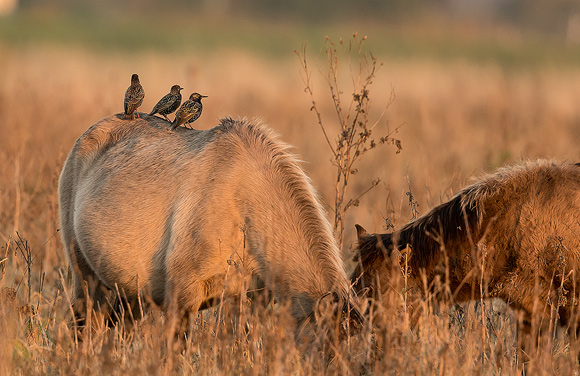 Once again, many of these photographs would now have been possible with my old 7D, neither with the 5D MK3 - that is the test for me and the 7D MK2 has passed with flying colours.