Having seen other photographers getting excellent flight shots from Titchwell beach, I thought it was time I tried. I usually leave a visit to Titchwell to the afternoon as most of the action is to the East of the hides and the footpath. However, this time I went mid-morning to the beach.
Anyway, my reactions have always been rather too slow for good flight shots so this should be interesting!!!
The tide was going out so there were plenty of waders feeding. As is happens, the sun was over my right shoulder with a westerly wind so not ideal for getting catchlights in the eyes but I had great fun trying to keep up with the fast flying waders.
I was also trying to get a background of the surf to give some depth to the image - sometimes the 7D dropped focus from the bird but mainly it held focus fine.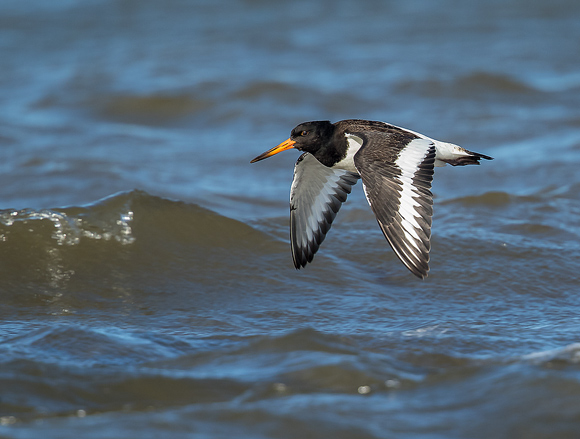 Even managed a sharp shot with Bar-tailed Godwit, Redshank and Knot all in the frame.
Dunlin were a real challenge but I had some success.
To end the session, a Curlew flew round me twice allowing some closer flight shots.
I thought it politic to quit while I was ahead so headed for the car, calling in at the hides on my way back. Nothing of real interest but a Shelduck was feeding close in with reflections in the calm water.
More images from this trip in the 'Recent Additions' section of this website.