I was expecting one more new species on this trip and today was the planned day. We headed off for Anglesey to South Stack to photograph Chough. I had not even seen on, let alone photograph one - well there are not too many in East Anglia!!!
We drove over the Menai Strait towards Holyhead where we checked out the harbour for divers - none we could see but the weather was glorious sunshine. Carrying on towards South Stack, I noticed a low bank of cloud and we soon drove into thick fog. Despite hanging around for several hours, it did not clear and the only Chough we found were in a field about 50/60 metres away, just about visible in the fog. I took a few record shots, just to be safe - just as well as that was the only Chough we saw.
Probably the worst photos I have ever posted to this site - a real record shot. Another trip required, I think.
Leaving Anglesey, we emerged into bright sunlight again, and drove towards Conwy to check out a site for Dippers - failed again.
So we made our way towards Langollen via Llanberis, calling in to a roadside mountain lake, Llyn Padarn, where a pair of Goosanders were very co-operative. I just sat down by the side of the lake and took some photos.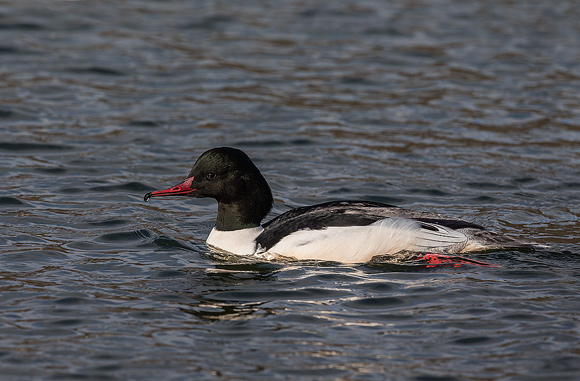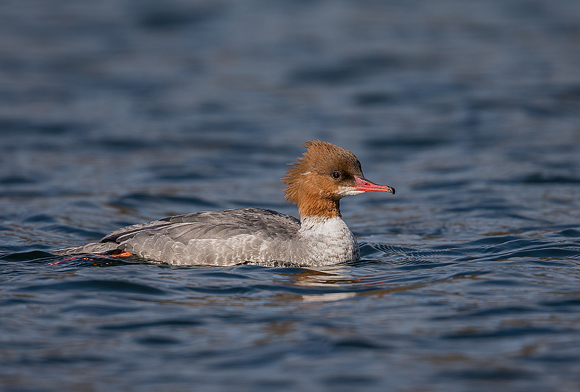 The rest of the trip to Llangollen was uneventful except for thick cloud and rain on the far side of the Llanberis Pass right until a few miles from our destination which had enjoyed bright sunshine all day!!!