Last week was the rarity - glorious sunshine thoughout the whole week. Great for photography you may say but that is not necessarily true. From mid-morning to mid-afternoon, the light is so harsh that decent photography is difficult, if not impossible.
However, getting bored at home, I ventured to the local Fen Drayton Lakes on Wednesday afternoon for a walk with the camera. Nothing too strenous in the heat so I just took my 100-400 lens and the Canon 7d mk2 camera, no tripod and just see what happens. Well, nothing much except for a Chiffchaff that made a reasonable image but a pleasant walk in the sun.
That evening, there were reports of Garganey near Bakers Hide at Wicken Fen. I was intending to go to Norfolk but with little being reported, I changed my mind and arrived at the hide at around 08.00 with full sun but side-lit from the right which was not ideal and a surprisingly high water level. Anyway, through the morning, the sun moved round so decent shots of common stuff was possible with clear blue water.
Moorhen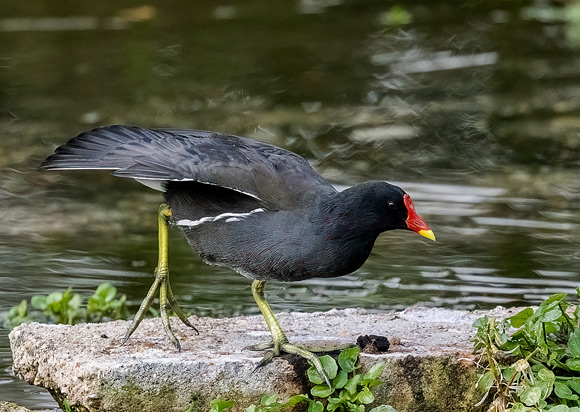 Coot with a novel way of transporting nesting material.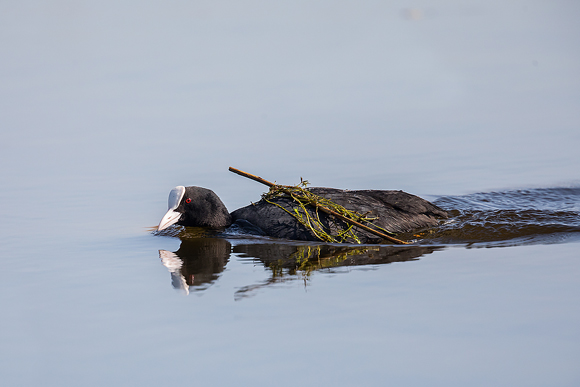 A group of Tufted Ducks made an appearance.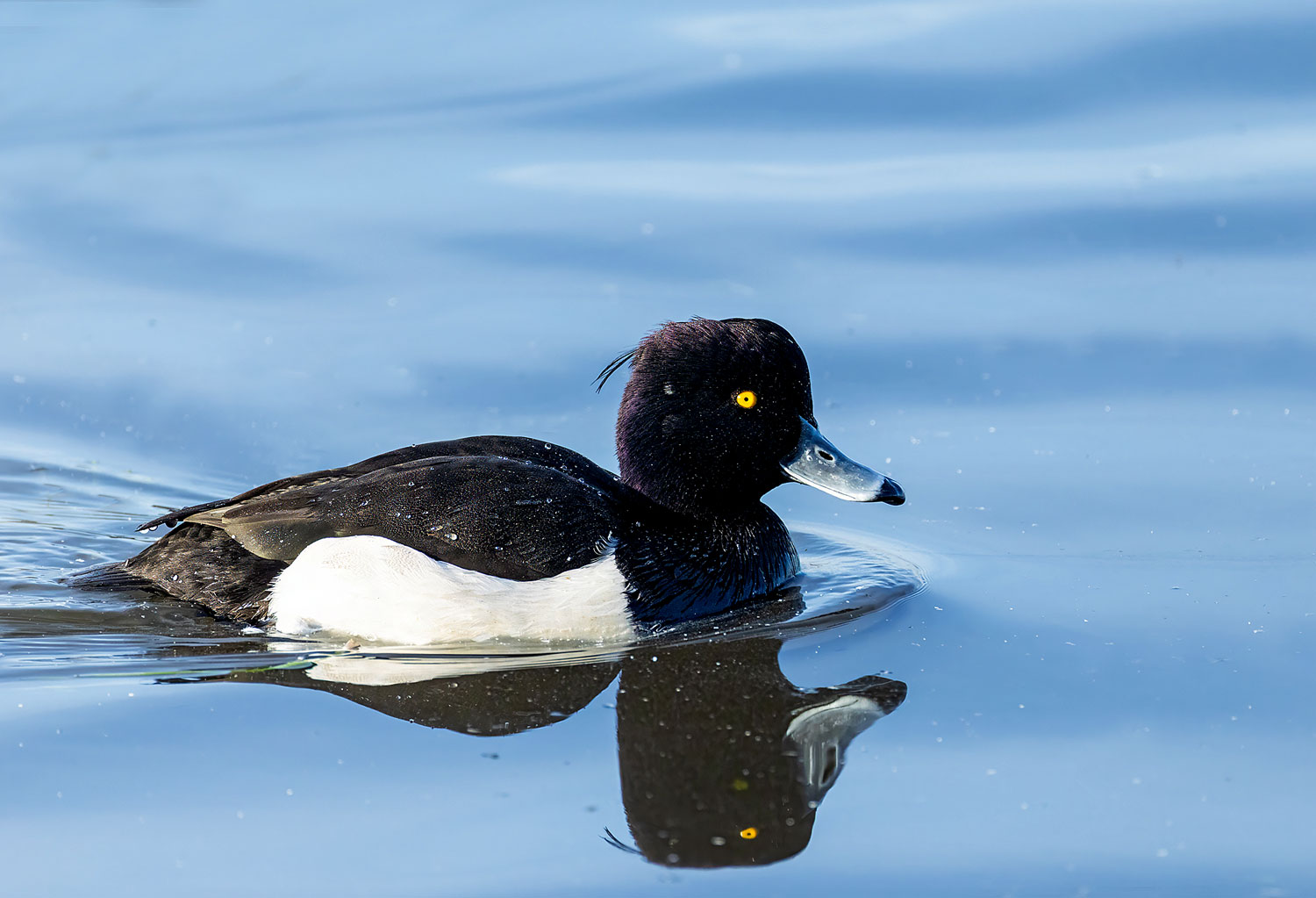 With all quiet for a spell, pandemonium suddenly erupted with some drake Gadwall deciding to scrap for the privilege of escorting the lone female.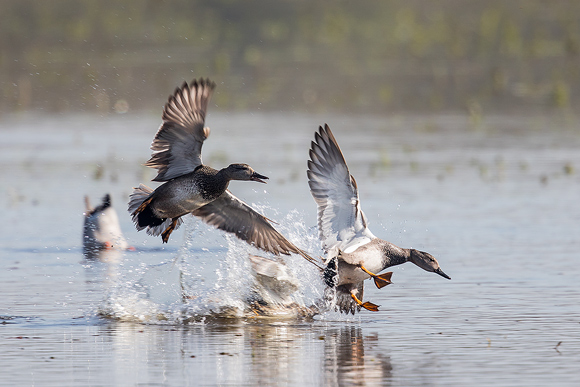 The female was totally unimpressed and paddled off into the reeds.
Then a drake Garganey made a distant appearance.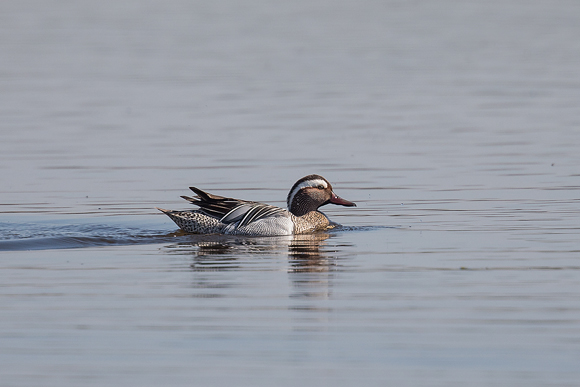 and after a little sortie, decided to preen and wing-flap before moving out of sight.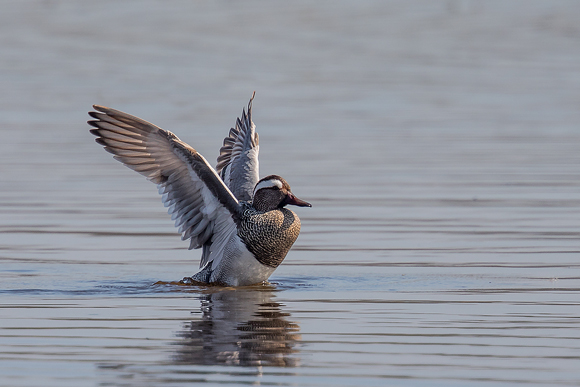 Garganey are a summer migrant to the UK, wintering in Africa so they are recent arrivals, looking to pair up and breed. I saw three drakes but no female although previous reports had included one female.
Just in front of the hide, a Little Grebe suddenly popped up with a Gudgeon in its bill.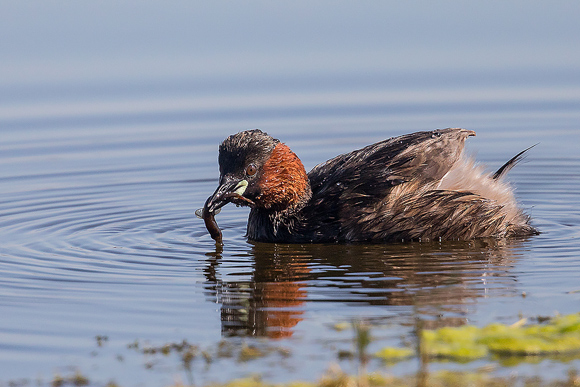 Eventually, one drake Garganey moved closer allowing reasonable shots as it fed by the reed bed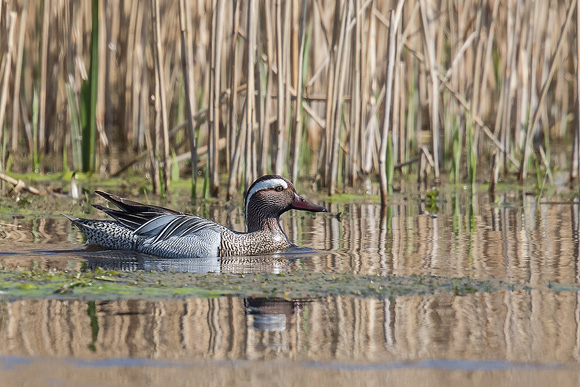 before joining the rest of them just out of sight.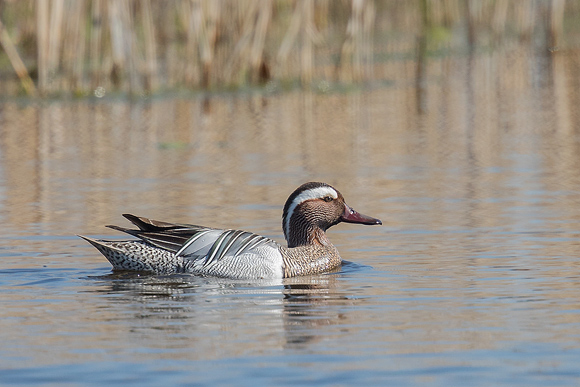 Now approaching mid-day so, with the light harsh, I returned home. Mission achieved.