Following my visit to Titchwell RSPB on the Norfolk coast last week, I was advised by a friend visiting last Sunday that it was awash with birds in front of Island Hide that is the best place for photography. There was mud for feeding waders in front of the hide and that was the attraction. On my previous visit, there was no mud so few waders.
Especially good, he said, for one of my target birds, Spotted Redshank in summer plumage and Mediterranean Gulls in summer plumage. So off I went, last Wednesday to arrive about 2.00pm for the afternoon and evening. Weather sunny with a northerly wind that was rather stronger than forecast.
Walking past the hide on the sea wall bank, a summer plumaged Spotted Redshank was relatively close. Not the best shot as the bank is too high and does not allow low access but I fired off a few shots just in case.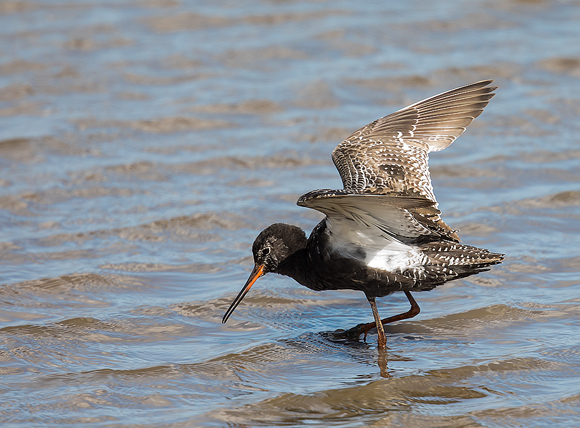 Just as well as one never did come close to the hide later and this was the only one I saw in that striking near-black plumage. There were several others around but already well into moult into their silverish winter plumage.
From the side of Parrinder Hide, I watched for the Mediterranean Gulls and saw one perched on the brick work in the mere but rather too far for a decent shot. Anyway, on with the 2x converter to give it a try and it flew straight towards me - sods law but I tracked it and was pleasantly surprised that the 2x converter combo actually held reasonable focus.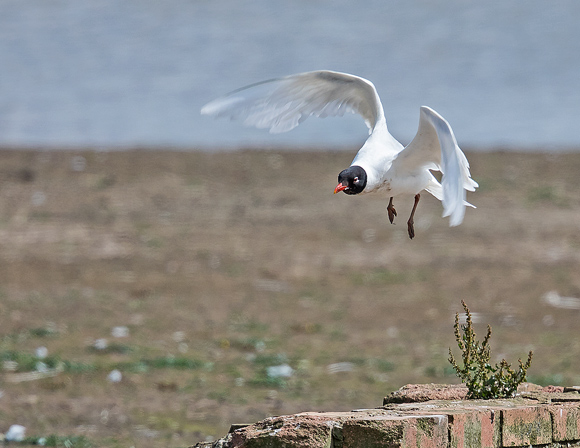 Nothing more doing there so I made my way to the bank and found a couple of adult Little Ringed Plovers.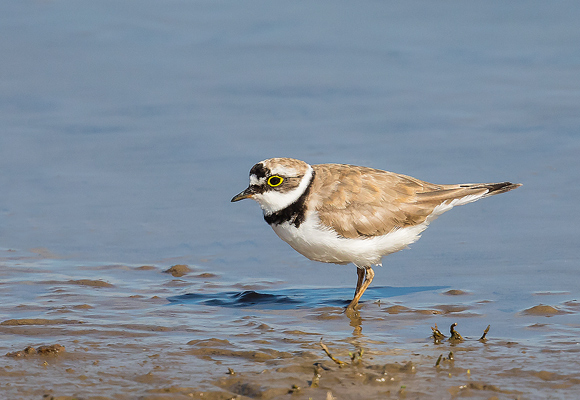 and a Mediterranean Gull on the water - still rather distant but worth a record shot.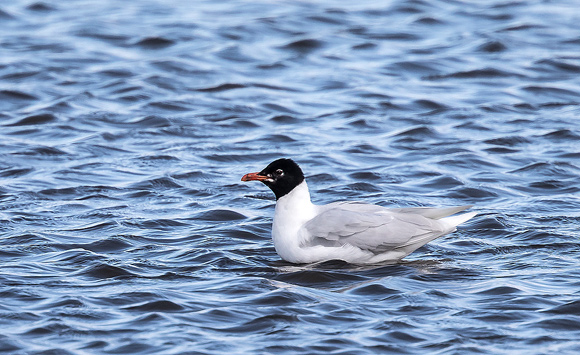 and then into the hide for the rest of the day.
Nothing much happening with so little mud except for Avocets and Black-tailed Godwits but I have loads of photos of those so did not bother. An occasional Ruff dropped in briefly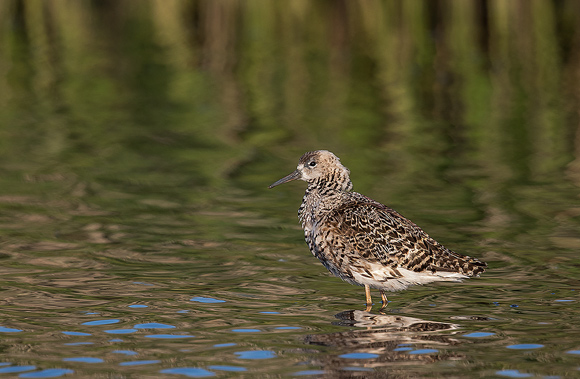 but soon departed for shallower waters.
For most of the time in the hide, I was on my own but I was joined by a local that used to volunteer on the reserve. I had a moan about the high water level, especially since it was fine last Sunday when my friend visited. He was also there on Sunday and agreed that the lower water levels were the main factor for the activity then. However, we now had a north wind and that was actually blowing the water in the mere towards the hide, rather like a small tidal surge. I had never considered that but will make sure in future that I do not visit when there is a north wind.